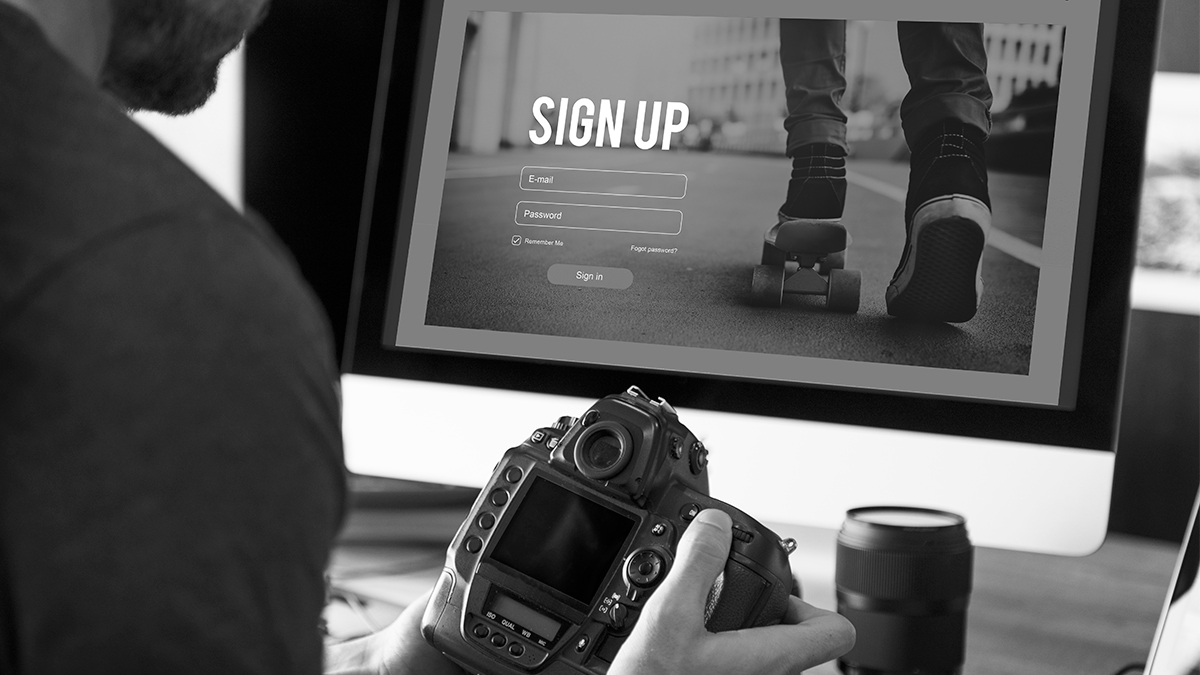 You need to make your site user-friendly to make it easier for visitors especially the first-time visitors to navigate around your site. You will lose out your opportunities to generate leads and turn them into paying customers if your site is poorly developed incoherently organized.
Many people who visit your photography site are first-time visitors. You must provide them with a clear and an easy to grasp information. Make it possible for them to know at a glance what you do and what you can offer to them.
How to tell who is your first-time visitor and who is a repeat visitor
There are different types of analytical tools you can use to differentiate between the statistics of your repeat visitors and that of visitors visiting your site for the first time. One of these tools is Google Analytics. It is a free tool. Sign up for an account and use Google Analytics to determine the statistics of visitors to your site.
When you are on the platform, click on the audience tab and then click on behavior to choose between the new or returning button. You will see a drop down menu of these two options click either of them to get your desired report. The majorities of people who visit photography sites are first-time visitors.
Google Analytics can sometimes record returning visitors as new visitors when they visit your site with a device different from the one they used previously. Also, if the visitors clear their browser's cache, the analytic tool may record their visits as new.
You may have observed that your guests are mainly visiting for the first time. That is why you need to optimize your website properly to keep them engaged. This will make them return visitors who you will ultimately turn into buying customers.
Why you need to get the attention of your first time visitors
They don't know what you can do and how good you are. You need to build trust in them from the start.
They don't know the structure of your website and thus, need proper enlightenment.
They may just be visiting with little or no attention and sometimes with high expectations.
They will only commit if your site shows them you can offer exactly what they need.
So, make sure you create a good first impression. You can easily confuse them with poor designs, incoherent messages, and poor overall site's performance. Make your website interactive enough to engage them instantly.
You need to gain their trust. You need to show them that you can offer what they are looking for. How catchy you make your headlines, the ease at which they can follow the structure of your web design together with what you have to offer will determine if they will return or not.
Try to meet their needs
The structure and the design of your site should be geared towards achieving the needs of your customers. You don't just put any information or content out there because it meets your goals and aspirations. Sit back and consider how that content can add value to the life of your visitor. Put yourself in their shoes and try to consider how you will feel about that information you provided if you happen to be looking for similar service. If it doesn't make any sense to you when you view it this way, then it may as well be a bunch of mess for your visitors.
Occasionally, first-time visitors come expecting to get another crappy site. Your job is to create a good impression, give them pleasant surprise and make them desire to do business with you.
Another thing you can do to grab the attention of your first-time visitors is to examine what you have done on the site with fresh eyes. Imagine that some first-time visitors have just landed on your site. Ask yourself the following questions:
Will they get a clear picture of what you are offering on the page?
Why did they come to the site?
What are they searching for?
What is their original intention?
What would attract them?
Have you provided anything that would give them a pleasant surprise?
What information do they already have about the type of service you offer?
To obtain relevant information about these set of questions, check out your competitor's sites. What is your first impression as soon as you visit the site? How does the overall design look like, how easy was it to navigate through the various sections of the site, Try to check their word use preferences, keywords and so on.
Compare your experience with what you are offering on your site. If you had a good impression of visiting a competitor's site; are you replicating the same type of experience on your site? If you had a bad experience, is the same thing that you think was not great replicated in your site or not?
If you think you made the same or similar mistake, go over to your site and try to use the experience you get from your competitor's site to create a better picture of your business.
You can as well check out great photography websites, gain inspiration from them and try to replicate the same wonderful experience on your site.
Let others review what you have done and provide their feedbacks
Even after checking out other sites, you may still be a bit biased with your opinions and think you have provided a more quality information. To ensure that you get rid of this form of narrow-mindedness, try to ask others for their honest opinions about what you have done and what you have on the ground.
You can ask your fans or fellow photographers to give you their own opinions about your site. Just allow them to tell you what they think openly. Don't present any form of an impediment. This way you will gain inspiration to boost the experience of visitors who come to your site.
Apart from that, you can as well install a free tool like Hotjar to record the videos of visitors who come to your site. This will provide you with informative clues on the experience of the visitors to your site. You will gain insight into exactly what they browsed, how easy it was for them to navigate through and the sections of the site that they experienced difficulty with.
The significance of the Navigation Menu
The majority of visitors after a quick view of the site's home page look at the navigation menu to tell them which page they need to click next. Try not to overcrowd the Menu and ensure that the navigation menu doesn't include anything odd and unimportant. Use items that are recognizable to your audience. So, if you don't know how to create a great navigation menu, try to search for more information about it and ensure you make yours compelling enough to make your first-time visitor want to go over to another page on your site after visiting the home page.
Set a clear goal you want to achieve:
What do you want the visitors to your site to do? Do you want them to get in touch with you or buy your stock images, or read any relevant information you have provided on your blog?
Your goal may change from time to time. The goals you had when you started your business may be different from your current goals. Let the homepage of your site reflect these current goals. Re-examine what you want and incorporate them into your site.
Figure out a way to design and arrange your site to make the visitors visiting your site for the first time want to take actions.
You can, for instance, decide to move personal things to your website and leave your photography site for the sale of stock images or to offer any related photography services.
You can then minimize the number of things in the navigation menu. You can then make use of your photography homepage to offer only the particular services you want to engage in with the site. You also need to include a search box in the header. Apart from that, you can as well make use of the side bars to provide the users with additional access to your site features and services.
Make the goals of your site clear without any ambiguous or vague information to distract visitors.
Avoid cluttering your site
The first thing you need to commit to is to make your website as simple as possible particularly the homepage. Include only significant things. Do not provide visitors with over ten services you offer from different photography type. Only inform them of the most important of them all. Try to create contents that are focused on attending to the needs of human visitors. Even if you optimize, your contents must be able to add great value to make them want to become a return visitors.
The main website design must be attractive and interactive. It must look appealing. To achieve this, get a good web-designer. A professional can help to perk up the look of your website by adjusting the CSS and by linking various features of the site and creating additional white space in-between. A good web designer can as well help to ensure that the features are properly aligned.
Create concise content
It is significant to ensure that you provide particular words in your content both for SEO purposes and to give visitors a clear idea of what you do. Your content structure is also essential. However, a lot of photographers become over creative with vague words which don't add any value to their business.
Remember, that your new visitors are in haste. They are commonly impatient enough to figure out what you mean when you provide convoluted texts and designs.
Give them general information at first and eventually delve into more intricate details
Create a great home page
Your home page is the first part of your site that a new visitor will see. It is, therefore, essential to ensure that your home page is properly optimized with the following information:
Clear information about your photography business. Do you offer general photography services or any specialized services and so on?
Let them know the next action to take
Put more important information at the top of the page
Make sure you tell them in at least two sentences who you are and what you offer.
Your home page headline which frequently sits on top of your page should say it all
Try not to over-promote yourself or your business
Create an engaging Bio page for your photography site.
Produce quality About Us page
There is frequently a distinction between what your customers intend to get from your site and what you write. Many new visitors visit the About Us page after visiting the home page. They want to get a better idea of you, who you are, what value you have, why you are different from your competitors out there. To make sure you gain their trust, write a persuasive About Us page to make them believe in your credibility. Try to provide all relevant information about what you do.
Put a call to action tab at the end of each page
Call to action tabs are great marketing tools to help first-time customers navigate through your site easily.
A great photography website need to include an engaging and interactive side bar, a slider, a properly crafted introduction paragraph that will tell visitors what the site is all about and a small bio in addition to roughly four different key categories
Overall
Optimizing your photography website for first-time visitors engages them. It helps them build trust in your business and changes them into return visitors.
Deal with some important metrics in Google Analytics like bounce rate, time spent on your site, the number of pages viewed for each visit of your first-time visitors will reveal if you are doing well or not.
If you don't make your website user-friendly to attract first-time visitors, you will not get many return visitors.